We usually take bookings for 6 nights / 7 days (Saturday to Saturday), but can take bookings for shorter stays and be flexible on the check-in and check-out days. Please just get in touch to ask us.
We've put together a few suggested itineraries to give you some ideas, based on what we love and what our previous guests have enjoyed most about their time on the Isle of Skye:
– highlights
– returning visitors
– serious hikers
– families
Highlights itinerary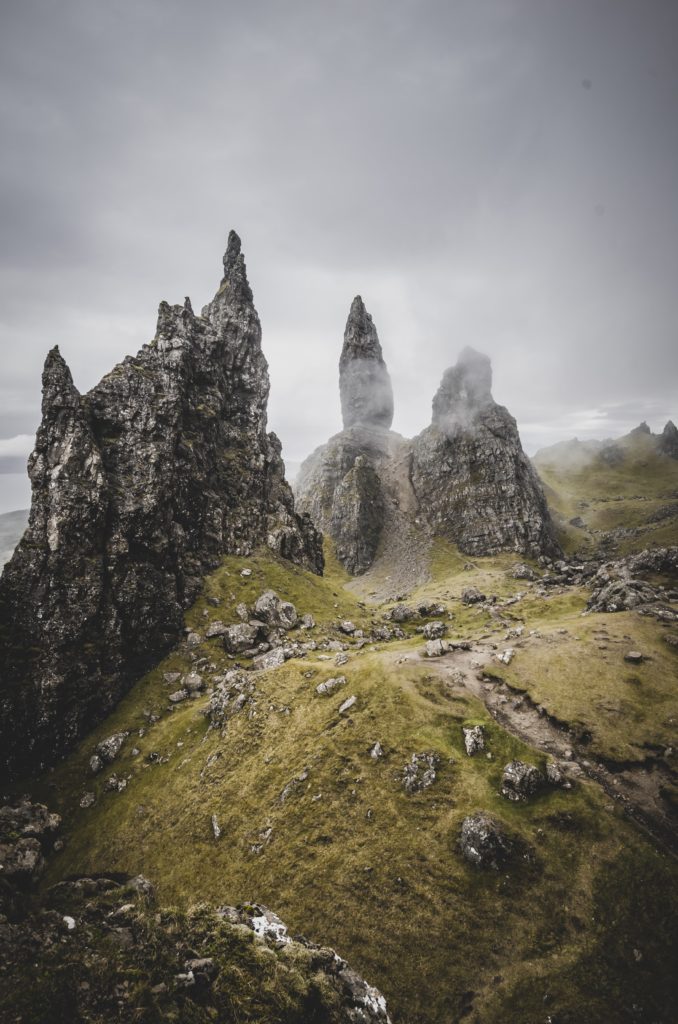 Day 1 – Practically a requirement on your first visit to the Isle of Skye, take a hike to the Old Man of Storr, a famous landmark and local hike on the Trotternish Ridge, getting to the foot of the Old Man will take approximately 45 minutes (and the same back). The last section is a bit of a steep scramble, so is not necessarily suited for everyone. After you've worked up an appetite, head to Scorrybreac in Portree for dinner, which features a Scottish menu with French influences and uses local ingredients and products.
Day 2 – The wildlife of the Highlands is one of Scotland's most compelling attractions, and the Isle of Skye is no exception. The sea eagles are not to be missed: tours depart from Portree. After a day on the water, the perfect complement is dinner at not just one of the best restaurants on the Isle of Skye, but one of the best restaurants in Scotland: The Three Chimneys has helped put the Isle of Skye on the culinary map. We suggest you make a reservation (maybe don't tell your friends so as to make it harder to get a reservation on your next visit!!).
Day 3 – Make sure you visit the Fairy Pools, one of the island's most attractive locations for photographs, and for visiting Isle of Skye waterfalls. You can use the Forestry Commission car park signposted 'Glumagan Na Sithichean', located on the single track road that leads to Glenbrittle from Carbost. In addition to photography, the Fairy Pools are a destination for wild swimming but be prepared for some of incredibly cold water!
Day 4 – Isle of Skye whisky: even if you don't fancy a dram, a visit to the Talisker distillery is hard to miss on any visit to Skye. While you're there, don't forget to visit the Oyster Shed, where you can taste Isle of Skye oysters and learn how to open them from the farmer himself. You might also checkout the walk at Talisker Beach when you visit. The walk is regarded as 'Easy' and takes about 40 minutes. If you didn't find what you're looking for at the distillery, we suggest you try the Misty Bottle in Portree. If you fancy a ferry ride to the Isle of Raasay, why not checkout one of Scotland's newest whisky producers, the Isle of Raasay Distillery, which describes itself as 'the first legal distillery on the Isle of Raasay' (emphasis added). Maybe enquire about some of the island's spiritual history as well!
Day 5 – The Isle of Skye offers no shortage of hikes, climb, scrambles, and boat tours, but nothing quite beats exploring the caves and inlets of the coast from the water line. Sea kayaking offers a breadth of adventures, from the complete novice (like us) to the more experienced, exploring the Isle of Skye floating on the waves takes you off the traditional tourist trail and exposes you to coastal Scotland on an outing that you will never forget! If kayaking feels too low impact, you still have the chance to explore inland waterways by becoming an expert in gorge jumping. You'll be given training and kept warm, and will go home with some genuinely memorable experiences and hopefully a few photos.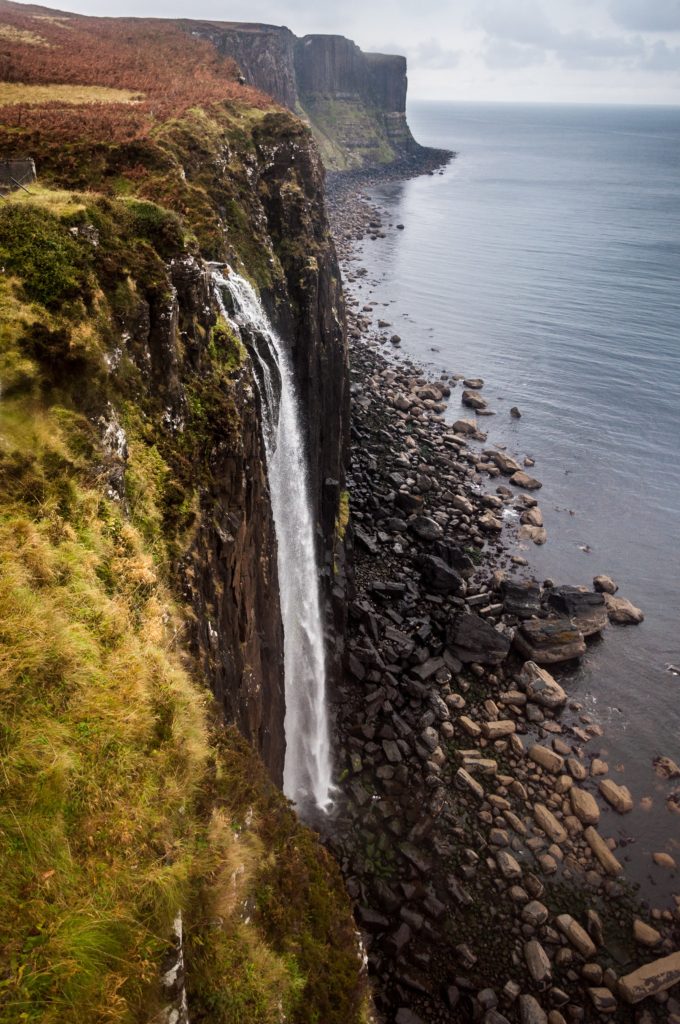 Day 6 – Photography: travelling to the Isle of Skye without some form of a camera is a crime, particularly because the Isle of Skye has so many waterfalls to visit: Kilt Rock on the north east of the Trotternish Peninsula; Rha Waterfall at Uig; and a different sort of waterfall, Spar Cave, described by Sir Walter Scott as 'The mermaid's alabaster grot, who bathes her limbs in sunken well, deep in Strathaird's enchanted cell' are all exceptional locations for capturing some special memories from your visit.
Day 7 – depart
Returning visitors' itinerary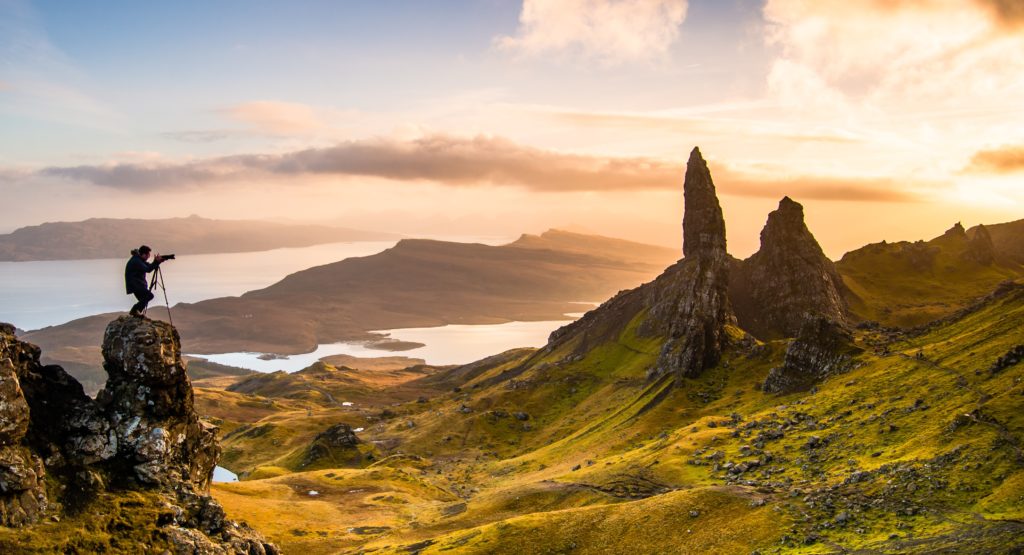 Day 1 – Photography: No doubt you will have noticed all the many stopping points for taking photographs on your drive through the Scottish Highlands. Opportunities for extraordinary photos exist all over the Isle of Skye, and if you happen to be driving at sunrise, you will notice groups of photography enthusiasts clustered at a number of vantage points along the A87. As a return visitor, you probably know all of this already. But one of the best ways to ensure you get top photographs is to take a photography workshop from a local professional. They can also help you find hidden spots that offer the best views. Many of the locations recommended in this itinerary lend themselves to great photo opportunities, but two of the most popular are the Quiraing and Talisker Bay, regarded by many as the best beach on the Isle of Skye. For the latter, try to aim for just after high tide when footprints have been washed away, and you have a great perspective on one of the top waterfalls on the Isle of Skye. At the end of your visit, why not enter your best shots in the Isle of Skye photography competition.
Day 2 – Develop your sea legs and go on a tour to see marine and bird life (conditions depending) from Stein, from where you might have the chance to see bird life, such as Puffins, razorbills, and guillemots. Minke whales, dolphins, and sometimes, orcas (killer wales) are spotted in the waters around the Isle of Skye. Interestingly, there is a group of orcas that live permanently between the Outer Hebrides and Gallway, approximately ten individuals. There is a separate group that descend in the summer from Iceland and spend their time further north, near Shetland, but the two groups don't interact and prefer different food types.
Day 3 – Get a sense of how locals lived on Skye 100 years ago, and visit the Skye Museum of Island Life at Kilmuir. After your immersion in the island's history, plan on heading back to Loch Greshornish for dinner at Greshornish House Hotel, a lovely 19th century house 10 minutes' walk away from Diubaig House that many of our guests have enjoyed when they fancy a break from cooking for themselves. Greshornish House has played its own unique role in Clan Macleod history, and it's worth a visit to find out a bit more.
Day 4 – Missed it the first time around: Brothers' Point on the Trotternish Peninsula. In addition to its spectacular scenery, and relative lack of tourists, it's also become a source of some incredible, recently-discovered dinosaur tracks not to be missed on a return visit. On the same theme and also in the area, is the Staffin Dinosaur Museum (a one room 19th century schoolhouse), with an interesting collection of fossils found by the first person to discover dinosaur fossils in Scotland. Kilt Rock is nearby, so if you still have reserves, you might want the chance to visit one of the most iconic waterfalls on the Isle of Skye.
Day 5 – If you've developed a taste for Skye history, and haven't gotten tired of boats, a visit to St Kilda, an archipelago that can be visited by boat departing from Stein jetty. St Kilda is the only site in the UK that is both a UNESCO World Heritage site and a National Nature Reserve. Its home to the UK's largest population of Atlantic puffins, and is the largest seabird sanctuary in north west Europe. St Kilda also offers a rare insight to a former way of life dating back centuries. The last residents were evacuated in 1930, and St Kilda is now home to a small military presence and visiting scientists. The trip there, looking around, and the return voyage is more than enough to fill a full day. For part of its history, St Kilda was part of the Clan Macleod lands and Dunvegan Castle features an exhibition on these former connections.
Day 6 – Fishing & Deer Stalking: Scotland is famous as a location for super salmon fly fishing, but fishing for trout is also possible. Deer stalking (either with a camera or rifle) is a significant part of the Scottish economy and has helped to support local communities for generations. Both activities, which are seasonally dependent, require a professional ghillie who can assist with obtaining the necessary permissions and arranging logistics. Make sure you book in advance and have the necessary clothing for the conditions. Some of the best salmon fishing on the Isle of Skye is in the Snizort River (regularly recording some of the highest catches), which you would have crossed to reach Diubaig House and is only 10-12 drive minutes away! Stalking is usually in the north of the island, so you are in the right area for that as well. Fishing and stalking can be physically challenging so make sure you get a good sleep the night before.
Day 7 – depart
Serious hikers' itinerary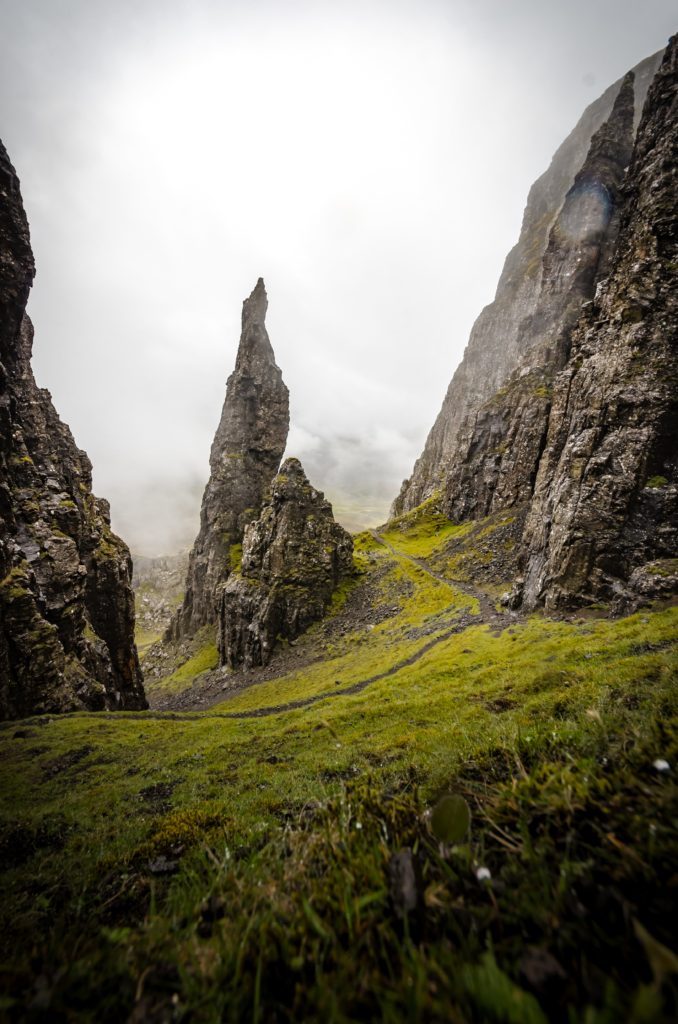 Day 1 – For any serious hiker, it would be hard to miss the Old Man of Storr on any visit to the Isle of Skye. The rock, said to resemble an 'old man' is 160 feet high. According to legend, the old man was a giant who was buried in the Trotternish Ridge, and the rock that you see is his thumb sticking out of the ground. The walk is about two hours, and if hiking after heavy rains, please be careful of lose rocks. Afterwards head back into Portree to the Isle of Skye Baking Company for a sweet pick-me-up. All goods are locally made with local products.
Day 2 – A medium-level challenge is the Quiraing, the result of a massive ancient landslip. The Quiraing walk is a loop that brings you back the car par in about two hours. On your way back to Portree, there are two separate waterfalls, famous beyond the Isle of Skye, well worth a visit. Kilt Rock (Mealt Falls are also nearby) and a few kilometres further south, the lesser visited but no less special, Lealt Falls.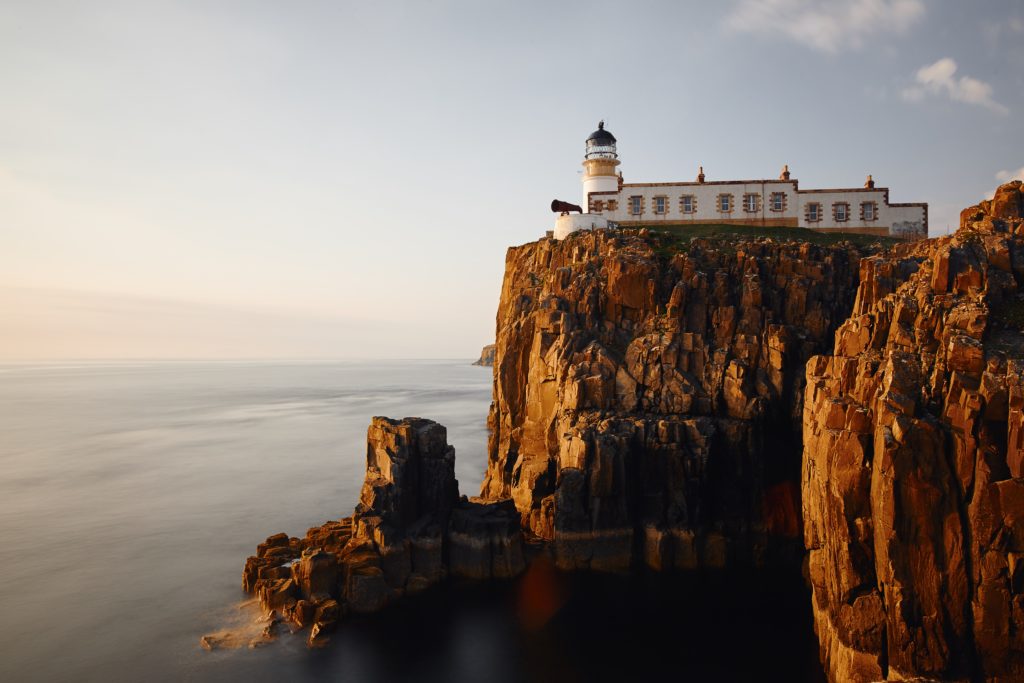 Day 3 – Neist Point Lighthouse is one of the most photographed lighthouses in Scotland. Although the walk is 45 minutes allow more time for breaks and to explore the lighthouse. This walk is rated as 'medium' in difficulty. If you're in need of a tea or coffee, why not try the nearby Red Roof Cafe which has a vegetarian menu.
Day 4 – A serious walk, requiring a map, planning, camping equipment and a tent, the Trotternish Ridge offers no consistent trail, but lots of adventure and some breath taking photography opportunities on the Isle of Skye. The trail finishes back in Portree so reward yourself with a pint (or two) at The Isles Inn.
Day 5 – If after two days on the Trotternish Ridge you still have an appetite for more, you could attempt some scrambling at the Cuillins. This is regarded a challenging scramble, not to be undertaken without training, and one that present unique physical and mental challenges for climbers.
Day 6 – Give your legs a break and spend the day in the pub! If you've not had a chance already, try the Merchant Bar in Portree.
Day 7 – depart
Families' itinerary
Day 1 – Get to know the local area: in the village of Edinbane, you might be interested in picking up a memento from Edinbane Pottery, famous across the UK for its crafts. Afterwards, take a walk to collect shells on the beach at Loch Diubaig, and see if you can find the ruins of the village that used to be there. Some of the original residents of Greshornish House are buried there. In the evening, head to the Edinbane Lodge Restaurant, where local chef, Calum MacDonald, has prepared a menu filled with Isle of Skye produce and tastes.
Day 2 – Develop your sea legs and go on a tour to see marine and bird life (conditions depending) from Stein, from where you might have the chance to see bird life, such as Puffins, razorbills, and guillemots. Minke whales, dolphins, and sometimes, orcas (killer wales) are spotted in the waters around the Isle of Skye.
Day 3 – Take some time to visit Portree, and go for a walk along its colourful harbour front. For those with energy to burn, ACE Target Sports might be just the thing: archery, airsoft, paintball, air rifle, clay pigeon shooting, and even axe throwing are all on offer for the adventurous. A more low impact alternative might be The Portree Treasure Hunt Trail, takes approximately 1.5 hours, and there is a small fee before you get going.
Day 4 – Visit the Faerie Glen, see if you can find the small cave where leaving pennies is meant to bring good luck. In recent years, some tour guides have encouraged visitors to make their own stone circles, a practice the locals prefer not to encourage. Please leave the rocks as you find them.
Day 5 – Visit Castle Dunvegan (can be a bit pricey), the seat of Clan Macleod, and take some time to tour both the castle and the estate. Afterwards, if you fancy a beach break from Highland history, the Isle of Skye offers its very own white sand beach with aqua blue water: Coral Beach, only 10 minutes from Castle Dunvegan. Since you're in the area, why not head to the Three Chimneys for dinner, one of Skye's top restaurants.
Day 6 – Watch a film or take in a live show either at the Aros Community Theatre in Portree or as organised by Seall at various locations on the Isle of Skye. Afterwards, explore some of the art galleries on the Isle of Skye and take home some local art. If you're up for a short drive to Carbost (maybe on the way to Talisker) why not visit the studio of local artist Cath Waters, who specialises in Scottish landscapes.
Day 7 – depart